---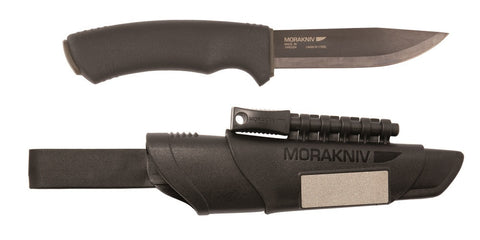 Morakniv / Bushcraft Survival / Black
Morakniv
---
Bushcraft Survival Black – A razor sharp blade with its black 3.2 mm thick blade is one of the most sturdy knives we have ever made. The carbon steel blade has a black coating which protects against corrosion.
You can use the back of the blade with the fire starter. The spine of the blade is sharp, ground especially for that purpose.
The robust sheath is provided with a well thought out space for the firesteel and completed with a diamond sharpener, making it easy to sharpen the knife blade.  A knife that suits a tough livestyle!
Razor sharp 3.2 mm thick black coated carbon steel. 
All-weather Morakniv® Fire Starter
Integrated Diamond Sharpener.
Two Belt Clips.
Integrated Fire Starter
Bring the Fire Starter on your outdoor tour and be able to light a fire wherever you are. Just pull the specially designed knife back slowly and heavily along with the fire starter. The sparks easily light your barbecue, paper, birch bark or dry grass.
The protective coating on the steel needs to be scraped off  before use.
Sparks of 3000 C° makes it easy to light a fire in any kind of weather.
Yield up to 7000 strokes.
Illuminates even stoves and gas grills.
Works in rain and snow.
Since it has a strong spark, it can also be used as emergency signal.
Use only the back of the knife blade with the fire steel. Never the blade edge!
Knife with a 3.2 mm thick carbon steel blade.

Blade Thickness: 3.2 mm
Blade Length: 109 mm
Total Length: 232 mm
Net Weight: 0.2285 kg
---
More from this collection