---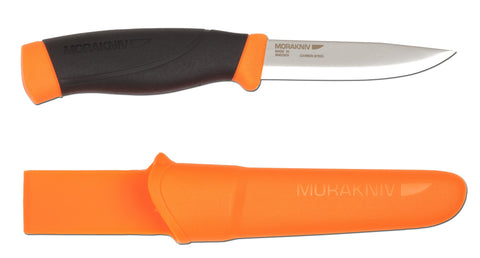 Morakniv / Companion / Heavy Duty / Orange
Morakniv
---
Companion Heavy Duty is a powerful tool for bushcrafters, hunters and outdoor people.
For batoning the knife needs great strength requirements. Then Companion Heavy Duty is ecommend with its three-layer injection molding and the little blunter edge angle 27 ° for maximum sharpness resistance (default is otherwise 23 °).
Even Bushcraft Black and Orange knives have the thicker (3.2 mm) blade with 27 ° edge angle. These knives will not let you down! 
The knife has an extra large ergonomic handle with a soft high friction grip. The knife has a blade of 3.2 mm thick carbon steel with high load capacity. The classic scandi grind combined with high quality carbon steel makes the knife easy to resharpen. Plastic sheath with a belt clip. 
---
More from this collection